Allison Bartlett
Realtor®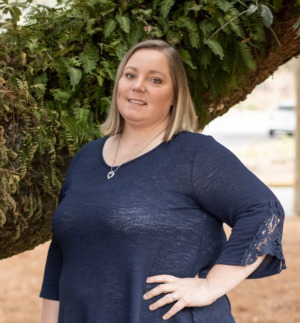 I recently joined Bennett Real Estate in 2021. Coming from Colorado Springs where I was also a local Realtor. I specialize in First Time Home Buyers and Military relocation. I'm always ready to help those around me. My background in customer service and desire to help people succeed were the building blocks in my decision to pursue real estate. I feel privileged to call Thomasville my home now. My grandmother has lived here my entire life and I visited often growing up.

You can count on me to be passionate, genuine, and focused through your process. My natural curiosity drives me to listen and learn about the people I encounter. Empathetic and dependable, I will be your confidant and advocate. I feel real estate is more about people and relationships than property. I sincerely want to be your friend in the business, because you are a person first and a client second.
I was born and raised in Indian River County, Florida. My family and I relocated to Thomasville in 2021.  I have been happily married since 2011 and gave birth to our son, Oliver, in 2017. I enjoy spending time with family and friends, a good book and painting. I truly love the enjoyment Real Estate has brought to my life. Making dreams a reality is what I strive to do everyday for every person I encounter.
Testimonials
I'm a first time homebuyer in a seller's market and Allison Bartlett made sure that I was informed of every step of the homebuying process from the first tour we took with her up to closing. If you're looking for someone honest, dependable and who will go above and beyond to meet your needs, Allison is your agent. Whenever I had a question, she made sure to get me an answer in a timely manner. Working with Allison felt like working with a friend and it made the process enjoyable. I would definitely recommend Allison to be your real estate agent.
R Brown
If you are looking for the best Realtor in Thomasville then Allison is your top pick!! My husband and I had such a smooth process buying our 1st home thanks to Allison! She was so patient with us, extremely helpful and could always be reached to answer questions and offer guidance. She is highly recommended for all your home buying needs! We absolutely love her!!
R Johnson
My wife and I are First time Homebuyers and were very nervous about purchasing our first home. Allison was the absolute best person to help us. She listened and actually took in what we wanted and didn't want. Any questions or concerns we had, she answered very quickly. She sat down with us and let us know step by step what was going on and what to expect. She was constantly sending us homes that she thought we'd like. She sent us a home that was on the market for EIGHT minutes and that home is now our First home ? Everytime someone asks us who helped us, we are quick to say Allison. We really appreciate her so much.
A Hopkins
Allison did a great job with helping us on purchasing 118 Jones St, Thomasville, Ga. She went out of her way to help us through every step of the process! She is very efficient in keeping details in order. We will most definitely use her for any future purchases in Ga.
C Nugent